Good Peoples Summer Sails – Saturdays!!
May 23, 2012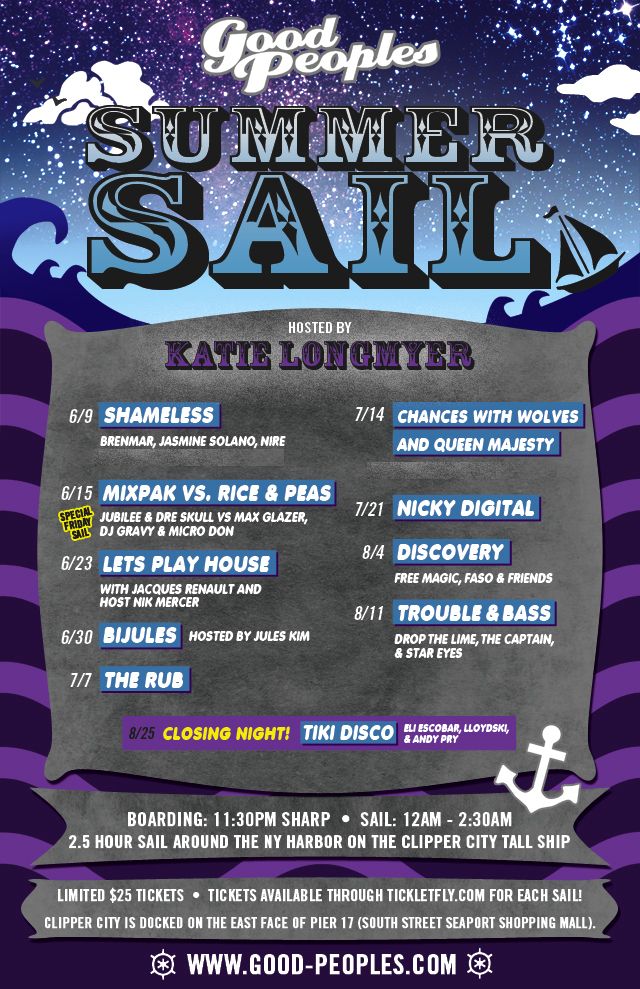 As of Memorial Day weekend, the Summer has arrived, and with that comes back one of our favorite Summertime events – the Good Peoples Summer Sails.
The Summer Sails will be every Saturday (with one Friday sail) aboard the Clipper City — NYC's largest clipper ship.
It's massive sails makes for a beautifully silent ride, save for your clinking cocktail glasses and the exclusive edits being dropped on the tables by NYC & Brooklyn's most beloved DJs and parties as they take to the seas.
Hosted by Katie Longmyer of Good Peoples, this specially curated experience takes a New Yorker's night on the town and expands it into an interconnected universe of music, cocktails, scenery and good peoples, for a 2.5 hour sail around the Hudson River.
There is only room for 100 people per sail, so grab tickets before they're gone!
Want a sneak peak? Check out some photos from last year's sail HERE and a video from NBC below.
ALL ABOARD!
for all sails
BOARDING 11:30pm SHARP!
SAIL: 12 midnight – 2:30am
21+
a 2.5 hour sail around the NY Harbor
rain-outs will be refunded or can be transferred to upcoming sales
TICKETS: $25 in advance // $30 day of show
Clipper City is Docked on the East Face of Pier 17 @ The South Street Seaport
**OPENING SAIL**
June 9th – SHAMELESS
featuring: Brenmar, Jasmine Solano & Nire
TICKETS
June 15th  – MIXPAK vs. RICE & PEAS
**special Friday sail**
featuring: Jubilee & Dre Skull vs. Max Glazer, Gravy & Micro Don
TICKETS
June 23rd – LET'S PLAY HOUSE
featuring: DJ Jacques Renault & host Nik Mercer
TICKETS
June 30th – BIJULES
featuring: host Jules Kim & special guests
TICKETS
July 7th – THE RUB
featuring: DJ Ayres & DJ Eleven
TICKETS
July 14th – REGGAE & SOUL
featuring: Queen Majesty (Deadly Dragon) & Chances With Wolves
TICKETS
July 21st – NICKY DIGITAL
featuring: host Nicky Digital with Special Guests
TICKETS
August 4th – DISCOVERY
featuring: Free Magic, Faso & Friends
TICKETS
August 11th – TROUBLE & BASS
featuring: Drop The Lime, The Captain & Star Eyes
TICKETS
**CLOSING SAIL**
August 25th – TIKI DISCO
featuring: Eli Escobar, Lloydski & Andy Pry
TICKETS
Check out the video from last year!!