Intervention: Tofer Chin + Bijules
February 7, 2012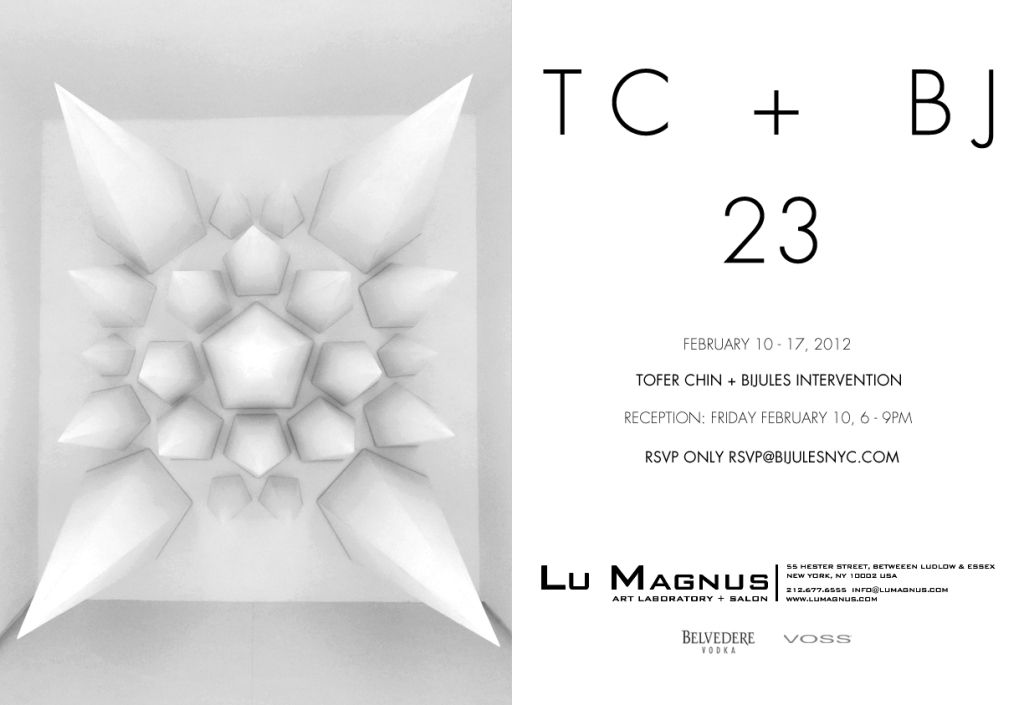 Good Peoples is proud to present: Intervention, by Jules Kim
An intervention refers to art which enters a situation outside the art world in an attempt to change the existing conditions there.
Jules Kim, of Jewelry brand Bijules, redefines fashion standards by experimenting with humor and confidence. This Vogue Italia featured darling will intervene into the current Tofer Chin show at the Lu Magnus Gallery in New York City. Taking Chin's current show, and adding jewelry and Bijules inspired pieces to the currently displayed works of art.
Join us this New York Fashion Week, on Friday, February 10th from 6-9pm as the Tofer Chin + Bijules collaborative pieces are revealed and available for sale – numerated and signed by the artists.
Open Bar provided by Heineken and Belvedere
live performance by Fools Gold's live band Telephoned
Lu Magnus Gallery
55 Hester Street, NYC
6pm – 9pm
This event is exclusively RSVP only in the form below
*** For more information on the Tofer Chin exhibit that will be wrapped into collaboration with Jules Kim, please click HERE.
About Bijules:
Jules Kim, the creator of Bijules, is unapologetically conquering the balance of art and aesthetics in jewelry. This makes her one of those rare artists who harbor the ability to create objects that mirror the beautiful and chaotic world we inhabit: with all its humor, tragedy, ambivalence, love and hate….
Bijules editorial coverage includes Italian Vogue, Russian Vogue, Numero, Numero Tokyo, Elle, Elle Denmark, Blink, iD, Blackbook, L'Offciel, Jalouse, Nylon, Oyster, NY Mag, Dazed, Another, Pop magazine and more.
Celebrity clients include Beyonce, Fergie, Lindsey Lohan, Mariah Carey, Shakira, Kelly Rowland, Rihanna, Kim Kardashian, Katy Perry, Paula Abdul, Santogold and Eve.
About Tofer Chin
A native of Los Angeles, Tofer Chin was born in 1979 and graduated from Otis College of Art and Design in LA. His work has been seen in Parque Lage, a public park in Rio de Janeiro, as well as in São Paulo, where he was commissioned to do a large-scale permanent installation. As a member of ROJO® NOVA, Chin has exhibited at the Museum of Image and Sound in São Paulo in 2010, at the Rojo Art Space in Milan in 2009, and the Museo Nacional Centro de Arte Reina Sofia in Madrid in 2008. With past solo shows in Los Angeles, San Francisco and Barcelona, Totally is his first New York solo exhibition. In Fall 2013, Chin will have his first Latin American solo exhibition in São Paulo. Tofer Chin currently divides his time between Los Angeles and São Paulo.